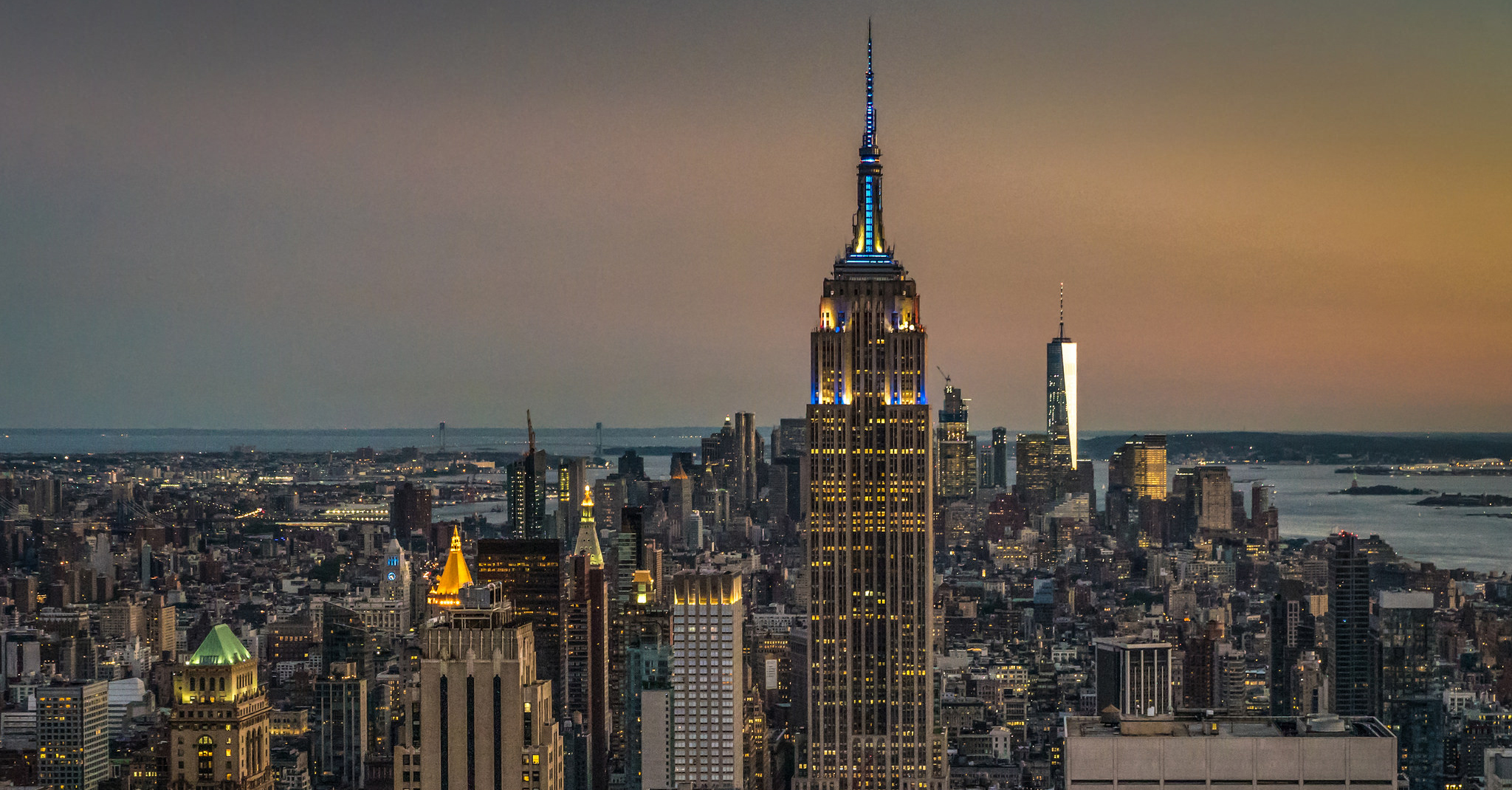 Photo: John St John/Flickr

There's no denying that Manhattan is the sparkle in New York City's eye, but that doesn't mean you have to dump out your wallet to hang out there. City Guide's compiled all the best free things to do in Manhattan this weekend, and for those wanting to explore the city's most famous borough on the cheap, this is your go-to guide.


Cello Concerto Competition Finals - The Juilliard School
December 06, 2019 - New York
SHOSTAKOVICH Cello Concerto No. 2no tickets required.
Brendan Lanighan, Jazz Trombone - The Juilliard School
December 06, 2019 - New York
no tickets requiredBrendan Lanighan, Jazz Trombone
Brian Joonwoo Hong, Violin - The Juilliard School
December 06, 2019 - New York
no tickets requiredALFRED SCHNITTKE A Paganini for Solo ViolinANTONIO VIVALDI "L'inverno" from Le quattro stagioniJEAN SIBELIUS Violin Concerto in D minor, Op. 47
Chris Reynolds, Collaborative Piano - The Juilliard School
December 06, 2019 - New York
no tickets requiredChris Reynolds, Collaborative Piano
Nayoun Kim, Violin - The Juilliard School
December 07, 2019 - New York
no tickets requiredNayoun Kim, Violin
MAP Chamber Music - Paul Hall at The Juilliard School
December 07, 2019 - New York
MAP Chamber Music
MAP Chamber Music - The Juilliard School
December 07, 2019 - New York
no tickets requiredMAP Chamber Music
Adria Ye, Piano - The Juilliard School
December 07, 2019 - New York
JOSEPH HAYDN Piano Sonata in C minor, Hob. XVI:20SERGEI PROKOFIEV Piano Sonata No. 8, Op. 84ROBERT SCHUMANN Piano Sonata No. 1, Op. 11no tickets required
The Man Who Never Was: Part2 - Dixon Place
December 07, 2019 - New York
A romp, a rant, a ramble. Revelation meets quotidian at the halfway house. A fish out of water tale with a twist of lime. A buddy story with no buddy. A tragical-comical-historical solo-performance based in reality!
Sky Room Rooftop Fridays - Sky Room
Through December 07, 2019 - New York
PRIVE GROUP Presents:SKY ROOM ROOFTOP FRIDAYSJoin us each and every Friday at the highest rooftop lounge in Manhattan: Sky Room Rooftop!Come enjoy drinks, great music, and dancing, and lounge on our heated outdoor patio and take in breathtaking views of the Manhattan Skyline!Sky Room, which boasts 360 views of Manhattan and the Hudson River from the city's highest rooftop lounge, takes New York City nightlife to new heights! Occupying the 33rd and 34th floors of the newly constructed Fairfield Inn and Suites by Marriott Times Square, the bi-level ultra lounge transports guests to a high energy oasis atop 40th Street and offers five distinct spaces: The Times Square Lounge, The Cube Balcony, The Private Salon, The North Terrace with retractable roof, and The South Terrace with private cabanas.
Jan Klein Rocked Solo Exhibition - One Art Space
Through December 07, 2019 - New York
JAN KLEIN ROCKED SOLO EXHIBITION, December, 2nd 7th, 2019OPENING RECEPTION:Thur, Dec. 5th, 6pm-9pmExhibition:Dec. 2nd 7th, 2019Live Painting:Wed, Dec. 4th, 11:30am9pm (6pm9pm Live Painting)Opening Reception:Thur, Dec. 5th, 11:30am9pm (6pm9pm Opening Reception)Artist Talk:Fri, Dec. 6th, 11:30am8pm (Artist Talk 6pm8pm)Jan Klein(born 1951) is a contemporaryDanish artist. The work of Jan Klein is a fusion of street art and pop art is in the mixed media genre, combining paints and collages.His works are orgies ofcolors and he finds inspiration everywhere. Musicians from the 1950s up to today, icons, words, sayings, and statements are essential elements ofmost of his works.He was born and raised inCopenhagen, in a working-class family.Conditionally born with dyslexia the school was not easy for the young boy-then he took refuge in arts. Atwere young age his artistictalent and uniqueness began to show up through his drawings and paintings. At the age of fifteen-sixteen, he became a hippie and started toexperiment with various drugs like so many others inthe60s. At the age of eighteen, he moved in with his wife Ninni, and as nineteen-ye... (read more)
Toys for Tots Holiday Benefit - City Vineyard
December 08, 2019 - New York
Chamber Music Recital - The Juilliard School
December 08, 2019 - New York
Chamber Music Recitalno tickets required
Nikki Pet, Clarinet - The Juilliard School
December 08, 2019 - New York
EUGNE BOZZA Bucolique for Clarinet and PianoAARON COPLAND Clarinet ConcertoEDISON DENISOV Sonata for Clarinet soloCAMILLE SAINT-SANS Clarinet Sonatano tickets required
Nytm Train Operators Workshop - New York Transit Museum
December 08, 2019 - New York
NYTM TRAIN OPERATORS WORKSHOP
Desi Saturdays - Stage 48
Through December 08, 2019 - New York
Each & Every Saturday Night, come experience the Glamour & Glitz of Bollywood as you Mix, Mingle and Dance at New York City's Hottest Saturday Night DesiParty Stage4, Desi Saturdays is one high society DesiParty. Wow factor everywhere. Beautiful people, beautiful venue, beautiful ambiance, and did we mention beautiful people? High energy, amazing music and a packed house are just some of the traits of what you would expect at this weekly Bollywood party.
Blue Blue Christmas - Club Bonafide
Through December 12, 2019 - New York
Live in NYC, the Atlantic City Blues Brothers: Christian Milazzo and Cooper Jordan pay tribute to Jake and Elwood in this soul-filled holiday show direct from Boardwalk Showroom at The Claridge Hotel attached to Bally's Atlantic City. This night of soul will get the joint jumping with all the hits you know and love, including "Somebody to Love," "Goin' Back to Miami," "Soul Man," "Sweet Home Chicago" plus holiday hits including"Rockin Around the Christmas Tree" and holiday blues tunes of course with "Blue Christmas"to get us all in the holiday spirit. Plus, the Atlantic City Blues Brothers always feature a live blues set from a special guest artist, this time from the New York Blues scene.
Seamus Heaney: Manuscripts - Irish Arts Center
Through December 15, 2019 - New York
An exhibition of the poet's handwritten, typed and edited work, in partnership with the National Library of Ireland
Discovery Room - American Museum of No History
Through January 01, 2020 - New York
The Discovery Room offers families, and especially children ages 5-12, an interactive gateway to the wonders of the Museum and a hands-on, behind-the-scenes look at its science.Children, accompanied by adults, can explore an array of artifacts and specimens, puzzles, and scientific challenges. Discovery Room Highlights:Hunt for animals in a majestic two-story replica of an African baobab tree filled with specimens of birds, insects, reptiles, and small mammals.Create your own collection of minerals, skulls, or arthropods from a cabinet full of fascinating specimens.Gather around an authentic Kwakiutl totem pole carved at the Museum in 1992. Assemble a life-sized cast skeleton of Prestosuchus, a 14-foot long reptile from the late Triassic Period and handle real fossils.Track real-time earthquakes anywhere in the world on a three-drum seismograph and explore the natural world with sophisticated microscopes.
The Renaissance of Sculpture in Medici Florence - The Frick Collection
Through January 12, 2020 - New York
The Frick Collection presents the first-ever exhibition on the Florentine sculptor Bertoldo di Giovanni (ca. 14401491), a renowned student of Donatello, a teacher of Michelangelo, and a great favorite of Lorenzo "il Magnifico" de' Medici, his principal patron.
10 Times Square: New York Fashion Rediscovered 1982-1997 - ZAZ10TS
Through January 20, 2020 - New York
An extraordinary collection of long-lost 1980s-1990s fashion photographs found on a New York City sidewalk. Opening during New York Fashion Week, the exhibition showcases the history of fashion in New York. Presented in the lobby gallery of the iconic building that served as home to some of the most prominent designers in NY, the exhibition features captivating runway images of the fashion stars and supermodels of the era, including Anna Sui, Donna Karan, Liz Claiborne, Ralph Lauren, Marc Jacobs, Perry Ellis, Isaac Mizrahi, Anne Klein, Geoffrey Beene, Adrienne Vittadini, Kate Moss, Cindy Crawford, Naomi Campbell, Linda Evangelista, Christy Turlington, Helena Christensen and more. Photograph by Kishimitsu Hada from the collection of Yuriko Tomita
Anna Walinska: Return to the Riverside - The Master Gallery
Through January 25, 2020 - New York
ArtistAnna Walinksa (1906-1997) had a strong connection to Manhattan's Upper West Side.She worked asa teaching artist-in-residence at the Riverside Museum (then located at the Masters Apartment,a landmark 27-storyArt Deco skyscraper at 310 Riverside Drive) and exhibited frequently there from 1954 to 1971, joining other prominent artistslike Louise Nevelson, Jasper Johns, and Barnett Newman. Work from Walinska's studio residence at The Masters has now circled back to the neighborhood in the exhibitAnna Walinska: Return to the Riverside,on view through January 25, 2020.
Craftsmanship and the Creation of Babylon's Ishtar Gate - ISAW
Through May 24, 2020 - New York
In fall 2019, ISAW will present A Wonder to Behold, an exhibition exploring ancient ideas about craftsmanship and the power of clay, glass, and stone through the display of the surviving fragments of Babylon's iconic Ishtar Gate and Processional Way.

Want free advice on what to see and do in NYC? Join our Facebook group Everything to Do NYC, a place for people to ask questions and get tips on how to make the most of the city.