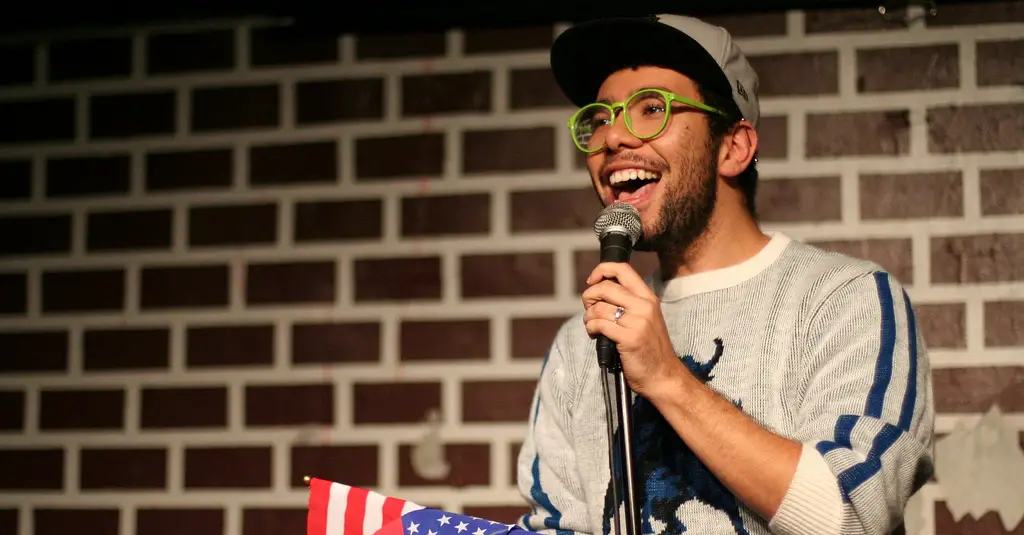 Photo: Benjamin Ragheb/Flickr

Who doesn't enjoy a hearty laugh? You'll get your fill of chuckles and then some at any of the comedy club shows on this weekend roundup from City Guide. Attending comedy shows in New York City is a must for anyone wanting to enjoy everything the city has to offer, and you might even catch a famous name performing a set at The Comedy Cellar, Gotham Comedy Club, or The Stand if you're lucky!


Maz Jobrani - Carolines on Broadway
March 27, 2020 - New York
Maz Jobrani was most recently seen playing the loveable "Fawz" on the CBS comedy SUPERIOR DONUTS as a series regular. He can often be seen on television's most popular shows such as GREY'S ANATOMY, CURB YOUR ENTHUSIASM, THE DETOUR, LAST MAN STANDING, and SHAMELESS. Maz starred as the title character in the award-winning indie comedy, JIMMY VESTVOOD: AMERIKAN HERO, a feature which he co-wrote and co-produced and is now available on all major outlets online
Iliza - Beacon Theatre
March 27, 2020 - New York
Iliza is one of today's leading comedians with a fan base who show their loyalty by creating their own Iliza inspired swag to wear to her shows.
Bushwick Bears! - Upstairs at The Stand
March 27, 2020 - New York
Derek Humphrey is a New York City based comic and actor. As a comic, Derek has finished in the top tier of Caroline's On Broadway 2019 "Comedy Madness" and the Bell House's "One Liner Madness," respectively. Derek's acting work has included campaigns for Gillette, appearances on MTVOther, ABC and in the series "The Alley" on Amazon Prime. In addition to stand-up and acting, Derek is a regular guest on both the Comedy Cellar's "Live From America" podcast and the popular show "Movies R Dumb" with Frank Coniff of Netflix/Comedy Central's "Mystery Science Theater 3000." Before starting in comedy professionally, Derek was a Firefighter, EMT and Chemical Warfare specialist in the United States Navy. He served from 2000-2005, was a responder to the events of 9/11 and a veteran of Operation Iraqi Freedom. Additionally, Derek had an illustrious career as a manager of a five star luxury hotel in the heart of South Carolina. Derek was born in a single wide trailer in Detroit.Boris Khaykin has done warm up for Comedy Central's The Opposition and was listed by TimeOutNY as one of Brooklyn Comedy Festival's Biggest Stars. He's been featured in Broad City webisodes, Amazon Prime's Red Oaks, a... (read more)
Living Room Comedy Show - Postmark Cafe
March 27, 2020 - Brooklyn
The longest running stand-up comedy show in Brooklyn presented by Aaron Kominos-Smith and Turner Sparks (now in its 13th year)!Every Friday night at 8pm come to this clean, all-ages show to see some of TV's funniest comedians and hear jokes they're working on for their next TV appearance on Comedy Central, Fallon, Conan, The Tonight Show, and more! Come as a couple or come alone. Bring a group of friends or bring your family. No restrictions on audience, we ask comics to keep their acts clean and EVERYONE gets in FREE! The show is at The Postmark Cafe: 326 6th St in Brooklyn.While tickets are free, reservations regularly sell out. Get your reserved seats at www.LivingRoomShowNY.comFollow @LivingRoomShow on Twitter/Facebook and email [email protected] to get our monthly lineups direct to your inbox.facebook.com/livingroomshow
Mr Choade's Upstairs Downstairs - The Slipper Room
March 28, 2020 - New York
Ages 21+Bradford Scobie as Sir Richard Castle, Bentley Rebel, Ellie Steingraeber, Penny Wren, Velvetina Taylor, Veronica Viper, Seedy Edie
ART - Improv Asylum
March 28, 2020 - New York
Without any pre-planned programming, ART will take you on a journey through the history, creation and meaning behind your favorite piece of art. We will go behind the scenes of some of the greatest masterpieces in existence: acting as artists, content of the piece, and historical context in this intense, hilarious and never-to-be-seen again improv comedy show.
Jen Kober - Clayton Opera House
March 28, 2020 - Clayton
Jen Kober is originally from Lake Charles, LA, and has energetically bounded onto the national stage bringing crowds to their feet with her original blend of stand-up, story-telling and improvised rock-n-roll comedy. Her hard-hitting hour is phenomenally funny as Kober commands the stage and dares you not to laugh. Jen was the 2017 Winner of NPR's Snap Judgement Comedic Performance of the Year for her Girl Scout Cookie Caper story which went viral upon its release earlier that year. Kober received the 2018 Comedic Performance of the Year for her latest story titled How I was Saved By Waffles.
Glass Cannon Live - Gramercy Theatre
March 28, 2020 - New York
Age Restriction: 16+ Unless Accompanied by a Guardian
Aaron Berg, Geno Bisconte, Kerryn Feehan - Laugh It Up! Comedy Club
March 28, 2020 - Poughkeepsie
Aaron Berg made his Comedy Central debut on THIS IS NOT HAPPENING in 2016 and has made two appearances on AXS TV's LIVE AT GOTHAM as well as an appearance on BIG JAY OAKERSON'S "WYFD?!?" on Seeso. "Bisconte's slash and burn style of back stabbing insults show he is a true comic guildsman. His style is reminiscent of a bowling machine setting up his audience, one person at a time, for the inevitable knockdown.Kerryn Feehan is a comic, writer, actress and producer living in NYC. She produces and hosts the longest running (4 years) monthly all female stand up and burlesque show "Stand up and Take Your Clothes Off" the first Sunday of every month at The Kraine Theater.
LEV FER - Laugh it up! Comedy Club
March 28, 2020 - New York
A NY comedian from North Carolina, Lev Fer has ascended through the New York comedy scene over the last 5 years. At just 23 years old he is one of the youngest comedians touring clubs and colleges today. You may know him from his extremely popular, up and coming podcast, YUNG DADDY, as well as a recurring guest on the GIRLS GOTTA EAT podcast. Lev has also been featured on MTV and can be heard regularly on Sirius/XM's Bennington Show. You could have seen Lev most recently on RAY DONOVAN for SHOWTIME
Diner On The Edge - The Producers Club
Through March 28, 2020 - New York
Improvisational Repertory Theatre Ensemble (IRTE) Presents: Diner on the EdgeYou're a weary traveler in need of a cup of coffee, a hot meal, and a friendly smile. This place looks fine and there's nothing else around for miles...Ask about the blue plate special, but beware: you've stumbled into IRTE's Diner on the Edge!Join our diner denizens and the unlucky stiffs who serve them as they teeter on the edge of a catastrophe determined by you, the audience, in this improvised story of workaday life and adventures into oblivion.Conceived and Directed by William BergDeveloped by and Starring IRTE with: Robert Baumgardner Glorianne Cody, Nannette Deasy, Curt Dixon, Natalie Hunter, Sam Katz Esther Lu, Jamie Maloney, and Lars MontanaroFeaturing music performed by Tym MossWHEN: Fridays & Saturdays March 13, 14, 20, 21, 27 & 28TIME: 8:00pmWHERE: The Producers Club, 358 West 44th Street, New York, NY 10036Tickets $18 Online / $20 at the DoorSeason Pass and Group Discounts Available Praise for IRTE Winner, Best Comedy, Tucson Fringe Festival 2020 Winner, Artists Whose Work Made Me Laugh the Most, Asheville Frin... (read more)
Fireside Mystery Theatre - The Slipper Room
March 29, 2020 - New York
Ages 21+An old-time radio styled audio drama and variety show with a decidedly modern macabre sensibility.Join host Ali Silva and company for an evening of dark entertainment: strange and thrilling original dramas, along with live music and comic sketches performed in the style of old-time radio broadcasts.
Ali Wong - Beacon Theatre
March 29, 2020 - New York
Ali Wong: The Milk & Money Tour comes to the Beacon Theatre on March 29 31, April 1 4, and April 23 24.
Ali Wong - Beacon Theatre
March 29, 2020 - New York
Ali Wong: The Milk & Money Tour comes to the Beacon Theatre on March 29 31, April 1 4, and April 23 24.
Three Michelles: Stand Up Show - Upstairs at The Stand
March 29, 2020 - New York
ree Michelles presents: Werk It Out! This NYC comedy trio created by Belinda Boxer, Alli Brown and Meghan Radespiel is putting on show featuring some of New York City's best comics. And yes, not one of them is named Michelle, and that's the point, babe! So strap on those sneakers and join us for a good sweat and some laughs! Please arrive 30 minutes prior to check in to guarantee seating. Seats are subject to be released 15 minutes after the show begins. ALL LINEUPS SUBJECT TO CHANGE WITHOUT NOTICE
Roastmasters Presents: Comedy Fight Club! - Upstairs at The Stand
March 29, 2020 - New York
Comedy Fight Club is a weekly roast battle show that takes place every Tuesday night upstairs at The Stand NYC also known as The CFC Arena. Anything goes in the CFC Arena. Nothing is off limits. Every line will be crossed. The show is not for the feint of heart, but it is for anyone who wants to have fun and laugh at the most awful and sometimes strange things you may ever see!Please arrive 30 minutes prior to check in to guarantee seating. Seats are subject to be released 15 minutes after the show begins.
Denied from New York - Improv Asylum NYC
Through April 02, 2020 - New York
Rejection is a part of every comedians life, but Giancarlo Mariutto and Sean Reidy turn that rejection into rejectionade with Denied from New York a sketch show about trying to find success in all walks of life. Each show they assemble a hilarious cast that features some of NYCs best comedians and musical acts alongside celebrity guests.Cassidy Routh (Full Frontal with Samantha Bee)Jo Firestone (The Tonight Show, Hulu's Shrill)Michael Torpey (TruTV's Paid Off, Orange is the New Black)Every 1st Thursday at 9pm

Want free advice on what to see and do in NYC? Join our Facebook group Everything to Do NYC, a place for people to ask questions and get tips on how to make the most of the city.