New York is always buzzing with life. Everywhere you go, there is a wonderful cafe, flashy advertisements, and skyscrapers that seem to put a spell on you. Everyone has heard about this city because it is a hot hub for many things that are present in our everyday lives. From fashion to technology or a TV series, there are a lot of things that happen in New York every day. Even though now with the COVID-19 pandemic New York might not be as it once was, there are a lot of amazing places students can visit in New York. Some of these are easily accessible, and if you have a student card, you may get free entrance to some of them. So, what are 5 amazing places you should not miss while in New York?
Photo by JR Harris on Unsplash.
Central Park
Everyone has seen on the internet the mesmerizing photos from above of Central Park. No matter the season you choose to visit New York, Central Park will always be one of those places you should not miss. It is in the center of Manhattan—the most popular area in New York—and also the most populated one. The park is on 843 acres and you can find a zoo, areas to dine in, and many museums as well. The nearby Guggenheim Museum is one of the main attractions, especially for those students that have a passion for art. Here you can see the artworks of Pablo Picasso, Henry Rousseau, and many more. If you have a passion for writing and want to note down the things you saw or the feelings you had, you are probably looking to create unique content and produce the perfect result. However, writing blog post entries that hook the reader may need the professional help of a paper writing service. Central Park is an urban place full of nature and life, so finding a spot to unleash your creativity when writing should be easy.
Rockefeller Center
If you are a fan of the movie Home Alone, you probably remember the iconic scene when Kevin gets reunited with his mom at Rockefeller Center. If you visit New York at Christmastime, make sure to not miss visiting this spot. The Christmas tree is iconic for this part of the city. But the Rockefeller Center is impressive during the other seasons as well. Here you can find beautiful and artistic sculptures, as well as a lot of restaurants and cafes to spend your time at. You can also go to Top of the Rock and admire Manhattan from above.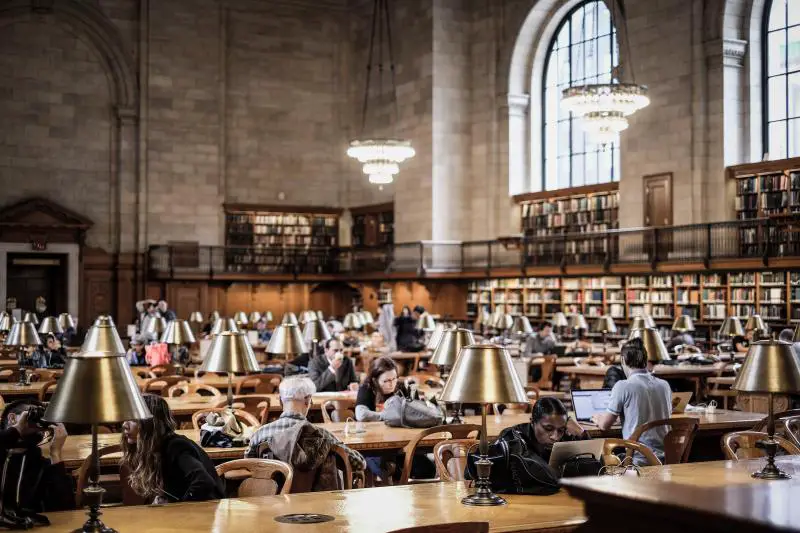 Photo by Monika Kozub on Unsplash.
New York Public Library Main Branch
The New York Public Library is one of the most amazing places for students to visit in New York. The building is considered a National Historic Landmark and it's a combination of two libraries. It has four stories that are open to the general public, so you can get the chance to see the impressive architecture. You can also sign up for a one-day permit and get to see amazing editions of some of the most well-known books.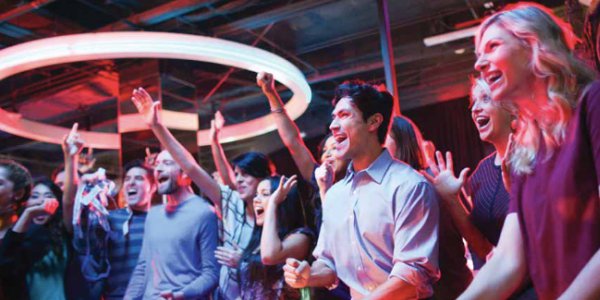 Dave and Buster's
Even though New York boasts plenty of coworking spaces, Dave and Buster's is a convenient place where you can relax, eat, and spend quality time with friends. It is one of the most popular places in the city, especially for travelers and youngsters who are passionate about video games. Here you can play over 200 video games, taste the local cuisine at their restaurant bar, and drink a beer with friends. Depending on what you are looking for to do here, there are tickets just for video games or just for the dining area. Some package options are also available for you to enjoy the full experience.
Color Factory
Color Factory is one of the hidden treasures of New York City, an attraction place that pulses with colors. If you are looking for a colorful experience, this is the place to indulge your senses. You will have a lot of fun exploring the various rooms and interactive spaces.
Conclusion
New York is buzzing with life. It's a hectic city that puts a spell on you the moment you step in. No matter the season you are visiting, make sure you do not miss Central Park and all of its hidden treasures. Rockefeller Center and the New York Public Library are must-sees. And if you want to have fun and feel the hectic vibe of the city, Dave and Buster's and Color Factory are things you should not miss.